Guitar Repair Schools PA
Mission Statement
For our PA students the main goal of The Eastern School of Fretted Instrument Repair is to provide a complete and thorough education in both basic & intermediate guitar and bass repair for our students, including band roadie tech and roadie guitar tech skills. By providing our Pennsylvania students with an in depth knowledge of the lutherie trade, we are giving our graduates the practical, hands-on knowledge needed to gain employment as a guitar repair technician, including band roadie tech roadie guitar tech skills or, if they're ambitious enough, to open their own guitar repair business.
Philosophy
Many guitar repair schools promise to teach students how to build & repair guitars. More often than not, what actually happens is the student spends the majority of the course building one, two or three personal pieces, gaining some basic construction techniques along the way, and may spend 3 to 4 weeks on "repairs" at the end of the course. By not focusing on each individual aspect of the trade in the proper context, the student will leave these programs without a thorough grasp on the guitar repair trade as a whole.
We believe that you, the PA fretted instrument repair tech student, can be taught to repair guitars and basses at a level that will allow you to not only survive, but to thrive and prosper in the fast paced and competitive world of musical instrument sales and service.
By Completing This Program You Will Learn:
- How to evaluate all types of fretted instruments
- How to correctly set up a guitar and bass
- How to correctly dress (grind & polish) frets
- How to refret all types of fret boards.
- How to fashion from raw blanks of bone, corian & micarta, nuts and saddles in an efficient and timely manner
- All aspects of wiring, including how to trouble shoot real world problems
- How to preform basic and intermediate crack repairs including splines and internal patching

In short you will learn how to "earn a living" in the guitar repair world by becoming an efficient, knowledgeable, and confident guitar repair technician.
Veteran Guitar Repair Training
The Eastern School of Fretted Instrument Repair is also committed to our veterans, officially approved and certified for Veterans training! Based on individual eligibility, some Gov funding may be available:
See General (Guitar Repair) Funding Options > http://www.njguitarrepairschool.com/prospective-students/tuition/grants-scholarships-financial-aid/
See Disabled Veterans (Guitar Repair) Scholarship Program > http://www.njguitarrepairschool.com/veterans/disabled-veterans-scholarship-program/
Click here for our own Pennsylvania ( PA ) Guitar Repair School $500 Program Discount!
Graduation, PA Guitar | Fretted Instrument Repair Students
Upon graduation, we assist in any and all ways possible to facilitate leads into available guitar repair technicians jobs. We have various relationships with a collection of both local and long distance repair shops that are consistently in need of capable qualified technicians. We provide graduates with all the information needed to understand the technical and business aspect of the trade, as well as commercial contacts used by working shops needed to succeed as a Luthier.
All Pennsylvania graduates leave the Eastern School of Fretted Instrument Repair with a lifetime point of reference and resource, as we offer a constant lifeline of technical support, general business guidance, and industry assistance as well as always providing access to the schools facility to past graduates for continued education and as a workshop resource.
The entire program runs 20 weeks (approx. 5 months).
Your day will begin at 9 am sharp and instruction runs to 3pm Monday – Friday. Students may stay from 3pm to 6pm Mon-Fri. for independent study.
For our Pennsylvania students the course of study at The Eastern School of Fretted Instrument Repair is fast paced, in depth, and finely detailed, with a thorough testing of student knowledge performed at the end of each instructional block. At the successful conclusion of the program, all students will receive a certificate of graduation along with a list of necessary resources and supplies.
Faculty
The Head Instructor here at The Eastern School of Fretted Instrument Repair is Mr. Joseph Civitano. Mr. Civitano is a Joseph M. Civitano Guitar Repair Schools graduate of the Eastern School of Musical Instrument Repair 1976 –1978 where he studied under Mr. Fred Kirshner.

Mr. Civitano also attended the Lutherie School located on the Campus of South Plains College studying with Mr. Harry Bohannon Miller "Master Luthier," graduating with honors after 2 semesters of study in December 1993. Mr. Civitano was a Gold Level Fender Repair technician for over 19 years. Mr. Civitano's Shop is also an authorized repair facility for Gibson, Epiphone, Guild, Kramer, Jackson, Peavey, B.C. Rich, and Ovation. Mr. Civitano is a member of A.S.I.A (Association of Stringed Instrument Artisans) and the Guild of American Luthiers. Both he and all other instructors will take all the time necessary to ensure you fully understand all of the repair techniques and procedures covered in the program.

Kyle Roggendorf has spent his entire life since the age of 24 in and around music and rock bands. Both as a player and a tech Kyle has made his mark. Apprenticing with Joe Civitano the owner of Raritan Bay Guitar Repair, Kyle learned the craft of guitar repair at the hands of a master tech. Dedicating himself to the perfection of his craft Kyle has worked through the years with many bands and artists. Some of which include: The Gaslight Anthem, The Bouncing Souls, Odor Sister, Hot Water Music, Dave Hause, Armored Saint, Motor Sister, Scott Ian, John Tempsta, Jewel, Seven Witches , The Bronx Casket Company, famed guitarist Jack Frost, A Pale Horse Named Death, Dave Simmons, Overkill, Bayside, Boys Set Fire and Vision.

While Kyle hits the road ensuring these and other artists have the best quality work done on their axe's while on the road, Joe Civitano "CJ" holds down the fort and continues to produce the finest fret work on the east coast. SPECIAL NOTE!!! For the first time Kyle will be holding a 4 day seminar on how to succeed and prosper as a road tech or "roadie" in todays fast paced world of proffesional rock music. Please click on our school website button to see the dates and subjects covered in this in depth seminar.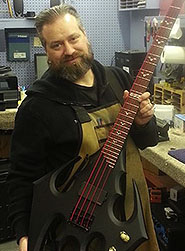 Our Facility
The Eastern School of Fretted Instrument Repair is located in the heart of New Jersey on Route 9 South in Freehold, NJ, centrally located and easily accessible from all points in New Jersey and the major metro locations of both Philadelphia and New York City. The facility provides five feet of work bench space and plenty of electrical outlets for each of the eight students in our well-lit workshop. It is located on the route for NJ Transit buses, with parking is readily available and free of charge.
Between classes, students can unwind in our break room equipped with tables, chairs, a coffee pot, refrigerator, microwave, water cooler, television, VCR, and compact disc player.
Feel free to contact us at: info@njguitarrepairschool.com

We Offer Classes To The Following Areas of PA
Philadelphia
Pittsburgh
Allentown
Erie
Reading
Scranton
Bethlehem
Lancaster
Levittown
Harrisburg
Altoona
York
State College
Wilkes-Barre
Norristown
Chester
Bethel Park
Williamsport
Monroeville
Drexel Hill
Plum
Easton